News 28 November 2021
News from SKAO
How does a fruit and vegetable wholesaler reduce its CO2 footprint?
Smeding & Zoon recently obtained a level 3 certificate of the CO2 Performance Ladder. But the fruit and vegetable wholesaler is concerned with sustainability in many more ways. From the fight against food waste to sustainable collaborations with partners. The family business has a simple (and sober) reason for its sustainable efforts: 'It just saves euros.'
In 1934 Rients Smeding went door-to-door with a horse and carriage to sell fruit and vegetables in Wommels, a small village in Friesland. Today Smeding & Zoon has grown into one of the largest fruit and vegetable wholesalers in the Netherlands, complete with two large distribution centers and a range of more than 1,800 products. The customers of the family business are (among others) retailers such as Jumbo, Coop and Spar. Smeding & Zoon is also the main supplier of internet supermarket Picnic.
Preventing food waste
Sustainability is reflected in almost all facets of business operations. For example, combating food waste has been an important agenda item at Smeding & Son for years. Kammanager Wim Manshande: 'To meet the wishes of our customers, we need to have products in stock. But fresh products don't last forever. That is sometimes a difficult fight.'
By properly coordinating buying and selling, Smeding en Zoon still manages to keep the loss percentage low. The wholesaler makes use of the Relex platform, which offers support in keeping the stock in balance. If there are still products left over, the family business has a solution. Thanks to a collaboration with the regional food bank, about 2,300 households can use the fresh produce (potatoes, vegetables and fruit) from the wholesaler every year.
Collaboration with partners
Smeding & Zoon also works with various partners in the chain on sustainable initiatives. For example, tomato nursery It Wiid and Kwekerij Osdorp focus on social sustainability by working with people who are at a distance from the labor market. 'We have agreed with them: we will purchase as much of what you produce as possible,' says Manshande. 'In this way we contribute to a bit of social security.'
Collaboration with chain partners is also important in the field of CO2 reduction. For example, the transport of products is outsourced to Simon Loos, one of the largest transporters in the Netherlands. 'They have phased out polluting diesel trucks over the years and replaced them with trucks that meet the strictest emission guidelines,' says Manshande. In addition, Simon Loos has a fleet of thirty LNG vehicles and catering supplies in Amsterdam are fully electric. 'We think that's important,' says Manshande. 'It ties in with our own philosophy.'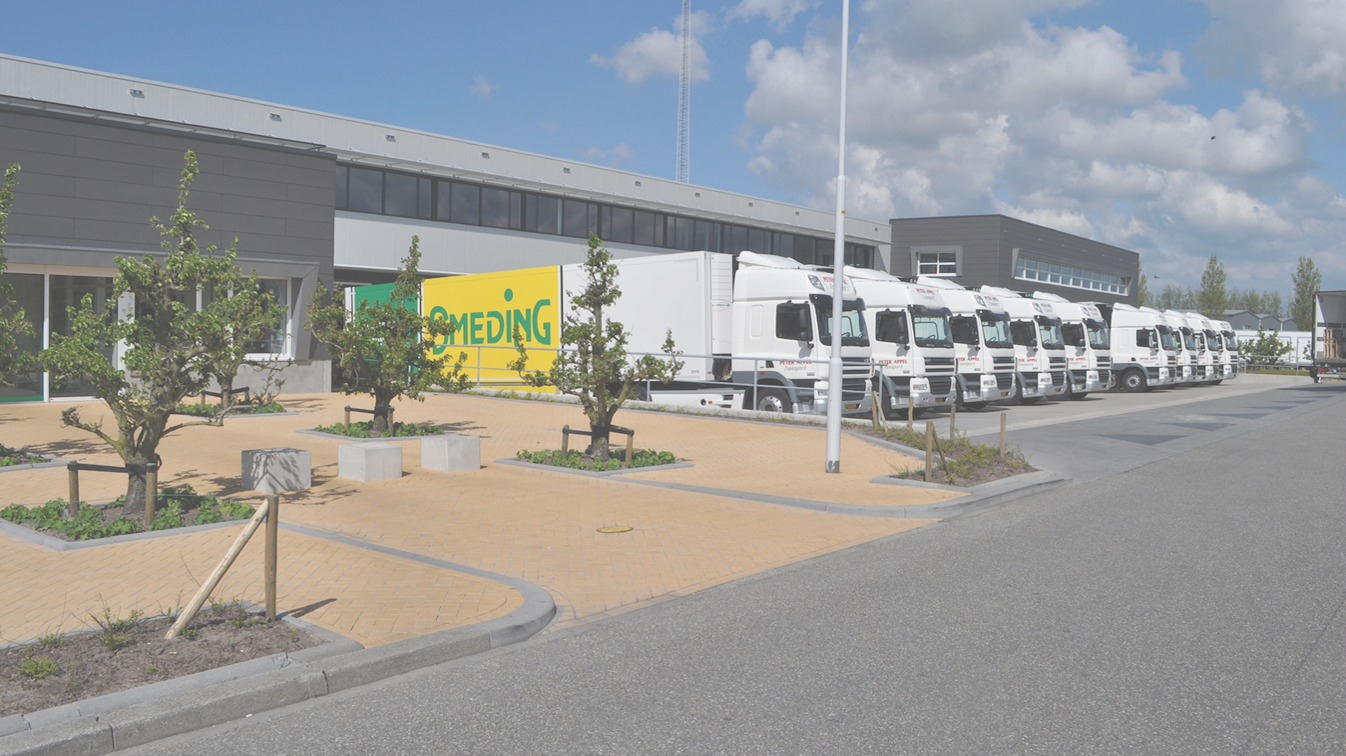 'The CO2 Performance Ladder enables us to tell a clear story to our customers. It makes tangible what we have achieved and what we are doing in the field of CO2 reduction.' - Wim Manshande, QHSE-manager Smeding & Zoon
Certification on the CO2 Performance Ladder
This year, Smeding & Zoon obtained its certificate on the CO2 Performance Ladder. That too had a sober reason. A level 3 certificate or higher on the CO2 Performance Ladder is an alternative implementation for the European Energy Efficiency Directive (EED). 'That was the main reason for us to get started,' says Manshande.
But certification on the Ladder brought an extra advantage, he continues: 'We had already obtained ISO 14001 certification, but it turned out to be difficult to communicate about this to customers. It is complex matter. With the CO2 Performance Ladder it is possible to tell a clear story to our customers. It makes tangible what we have achieved and what we are doing in the field of CO2 reduction.'
Energy consumption registration
Certification on the CO2 Performance Ladder turned out to be no big task for the family business. 'Since 2001, we have accurately recorded all our gas, water and electricity consumption, using the Envirometer. We therefore quickly gathered the necessary data,' explains Manshande. 'We think it is important to register energy consumption. All the energy we don't use just saves us euros.'
Over the years, Smeding en Zoon has also achieved many sustainable milestones. 'Sustainability is always a factor in our decisions. For example, if things such as refrigerants and lighting need to be replaced. For example, we currently only use LED lighting in our distribution centers, we flush some of our toilets with rainwater and we use electric pump trucks to collect orders.'
In recent years, steps have also been taken in the field of mobility. 'We have been very strict about that. Where we used to have a lease car fleet of almost exclusively diesel cars, this is now a mix of petrol, hybrid and fully electric cars.'
Solar panels and residual heat
The biggest CO2 impact for Smeding & Son, however, is in the use of gray electricity. And it turned out to be quite a challenge to do something about it. Smeding & Zoon is part of Sligro Nederland for a certain percentage, which jointly purchases energy for all its locations. 'That is sometimes green and sometimes gray electricity,' says Manshande. 'There was (and is) an important opportunity for us: how can we fill it in differently?'
A first step in that direction was taken with the installation of 1,868 solar panels on the roof, which together provide about 16 percent of the energy consumption of the distribution center. In addition, the residual heat that is released during the cooling in the distribution center is used for heating offices.
Wind energy?
In the future, Smeding en Zoon hopes to make its electricity consumption even more green. Wind energy could play an important role in this. 'It is still in the pipeline, but we hope to get our electricity from Windpark Fryslan in the IJsselmeer in the future.'